FORD: MUSTANGS...

A Spotter's Guide to Mustangs and Mustang Owners, and the Stigmas They Carry

It's all so sad. See then in a supermarket or mall and you may not immediately realize the pathetic disease that's gripped their lives. But catch a glimpse of them in the parking lot, and you immediately
know the rueful, wretched lives they live. They are, of course, Mustang owners. Forget their limp engines, weak suspensions, and the fact that mustangs have the structural integrity of a soggy Saltine, the worst thing about them is the insane stigma they infer. Drive a new mustang and people think you're an out of town-er who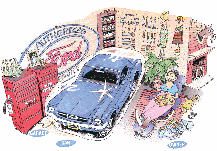 rented at Hertz. Drive any other Mustang and you shout to the world the vacancy of your Brain and the lack of automotive skill. There are two and only two types of people sad enough to still drive Mustangs: brain dead street racers and anal-retentive restoration fanatics. In fact, only the street racer actually drives the car. Let's be blunt; the Camaro has always been quicker, better-handling car than the Mustang. Choosing to drive a Mustang has always been a victory of derangement over common sense. The people who buy Mustangs are ill fated and deserve our pity. But instead of organizing a telethon, I have decided to make fun of them. Below is my guide to spotting the two types of Mustang owners. Study them intensely and beware: Don't let your children near them.
---
THE STREET RACER
Don't think human, think street racer. This guy lives for clandestine rendezvous in industrial parks at 2:00 am where he races his Mustang. He says he's 19, but he's actually 33. He's spent every last dollar he's ever had on the car and

loses every dollar after that racing. He doesn't have a real job. He lives with his parents, and his mom will tell you that, "He just needs some time to think things over. While street racing is what he lives fort he only races other Mustangs. In fact, he considers Camaros unfair competition. "I'll race anyone. But Camaro guys are all cheaters. They've got more displacement!" Like duh. Approaching this guy, don't be distracted by the fact that his pupils seem permanently dilated or that his skin tone changes with his mood swings. Just remember, he's deaf. That's from driving his Mustang on the freeway with those 5.30:1 gears. In fact, the car idles at 4000 rpm and needs to be pushed down a highway on-ramp to start.
For more on the Street Racer CLICK HERE
---
THE ANAL-RETENTIVE RESTORATION FANATIC
This guy is probably more like you dad than he is like you. We hope. He bought his '65 Mustang because he remembered always wanting one when he "was a kid," which is ironic because he was never a kid. He managed to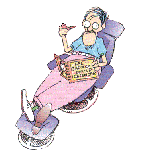 make it all the way through the '60s by ignoring rock music and got a deferment from the military because of premature make pattern baldness. He owns 16 distinct life insurance policies and names his car as the primary beneficiary in 13 of them. His Mustang club is the beneficiary of the other three. he owns no cloths made of natural fibers. He's 49 years old and has been for six years, and sometimes "gets casual" by putting on a sweater. He owns Sansabelt slacks in 14 different shades of forest green, 16 shades of sky blue and one pink. Besides staring at his beloved car for 16 hours every day, he compulsively washes his hands every four minutes. His favorite saying? "Don't touch it!"
For more on the Anal-Retentive Restoration Fanatic CLICK HERE